Whether it's knitting, painting, sculpting, or woodworking, a hobby is a wonderful way to spend time for people of all ages. But when seniors perform arts and crafts, they serve as more than a hobby—they also provide benefits of all kinds that can improve their quality of life and overall happiness.
Arts and crafts offer seniors a creative outlet, fostering a sense of purpose and skill mastery. They can enhance cognitive function, memory, and motor skills while alleviating stress. Additionally, they help aid in social bonding.
Whether your loved one lives in independent living, assisted living, or memory care, arts and crafts are an incredible opportunity to help boost their quality of life and provide all these other benefits.
Promoting Cognitive Function
Painting, sculpting, needlework, drawing—all of these give seniors a chance to think creatively and critically to produce the results they want. These activities flex the problem-solving muscles in the brain and help seniors think strategically about the best way to finish their artwork.
This helps stimulate the brain while thinking logically through every step of creating something from nothing, which can help promote cognitive function and health. This can help your loved one keep their brain strong.
Enhancing Memory
As your loved one ages, preserving their memory should be a priority. It's natural to begin experiencing difficulty remembering everything clearly, which makes it important to do what you can to keep your memory sharp.
Arts and crafts can be an excellent way to train one's memory. They can provide an outlet to create something new while using the muscles needed for memory retention and recall. Whether following the necessary patterns to complete a project or using a specific technique, arts and crafts are an incredible choice for using the muscles needed to keep memory strong.
Reducing Stress
The world is fast-paced, and it seems like it's getting faster every day. Often, seniors may find themselves overwhelmed trying to keep up, and it becomes necessary for them to find an escape.
This is when arts and crafts can be extremely therapeutic. They offer a slow-paced way for seniors to immerse themselves in the present and release their stress from the world around them. Whether trying a new technique, practicing a new skill, or finishing a painting, it provides a calming and almost meditative way to reduce overwhelming anxiety.
Improves Motor Skills
As we age, it's a common experience to begin developing problems with our fine motor skills. Arts and crafts offer a way to keep using and training these muscles through things like:
Careful brushwork
Precise cutting of materials
Reshaping or molding clay
Folding paper
Drawing fine lines
Writing with a pen
These all require the smaller muscles needed due to the precise nature of creation, which means seniors have a chance to train these muscles to keep their fine motor skills strong.
Providing an Opportunity to Express Themselves
One of the biggest benefits of arts and crafts is allowing people to express themselves.
Arts and crafts allow you to create something out of nothing, where you can put all your thoughts and emotions into something new. This can help seniors keep their sense of identity as they express their emotions and thoughts in a way others can see.
This is a wonderful way for seniors to express themselves in a way that makes them truly unique.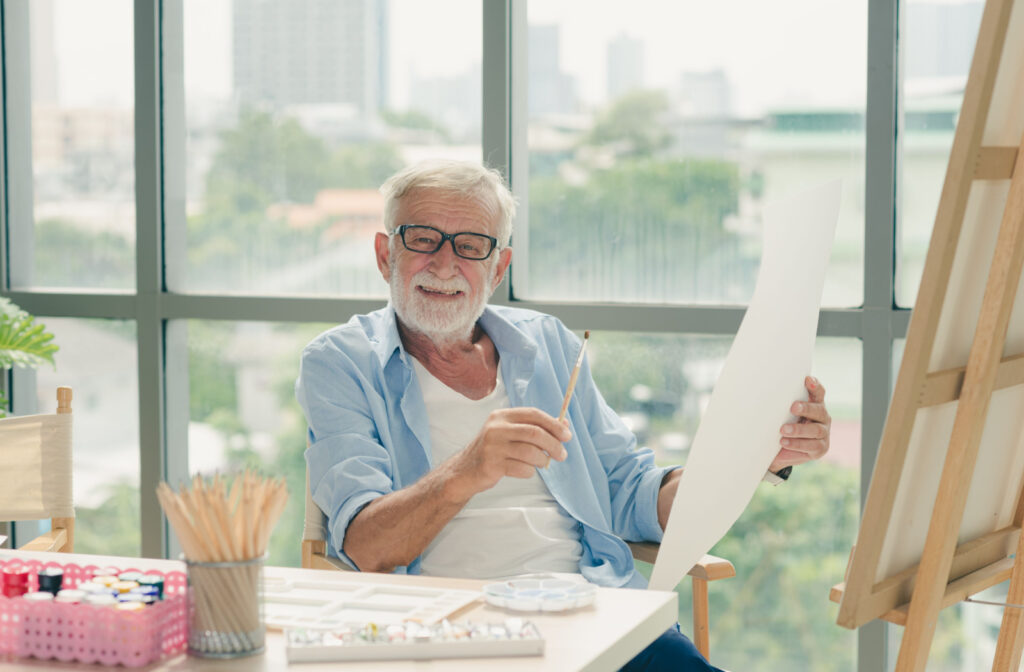 Giving a Sense of Accomplishment
We've all experienced the feeling of finally finishing something we've put a great deal of effort into. That feeling of sending an important email, finishing the final stroke on a painting, or even closing a novel after reading it for ages—it's an important feeling of achievement.
This sense of accomplishment is necessary in life, and arts and crafts give a way to feel this often. For seniors, especially those facing medical issues or mobility problems, this feeling can bring incredible feelings of positivity and high self-esteem. This can improve a person's overall quality of life and remind them they're as capable as everyone else.
Encouraging Social Interaction
The best thing about arts and crafts is simple: it can be done alone or with others. No matter which one you prefer, there are almost infinite choices for new things to create or new skills to learn. But the benefit of socializing with others can't be understated.
Spending time with others provides seniors with many benefits, like:
Promoting cognitive function
Improving memory
Training and using problem-solving skills and decision making
Improving quality of life
Boosting happiness
Arts and crafts can give seniors a chance to bond and socially connect with like-minded people around them. It provides a way to learn something new while chatting with friends.
The Importance of Arts & Crafts in Memory Care & Assisted Living
The benefits of arts and crafts are hard to match with other hobbies. They can boost cognitive function and memory, give a sense of identity and accomplishment, and provide a way to spend time with friends and family—all incredible things that help seniors maintain their quality of life. When considering moving a loved one to senior living, it's important to choose a community that offers programs like arts and crafts so you can have the peace of mind of knowing your loved one is somewhere that genuinely cares about its residents—like our community at Chaska Heights Senior Living. Schedule a tour with us today, or contact us to learn more about our incredible programs and amenities.